Conclusion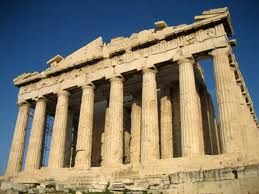 Congratulations! Now you are knowledgeable about geometry and its connection to a variety of buildings! You also have gained a greater appreciation and understanding of complex issues involved as part of a construction team. This WebQuest enabled you to establish a stronger awareness of how geometry is used everyday throughout the world. Plane and solid shapes, patterns, lines, and angles are embedded in three-dimensional objects such as buildings, monuments, and bridges. Continue to examine structures as you travel from place to place, and reflect on the lessons learned as part of this project.
Examples of Discussion Questions
How did each group develop their initial design?
Did designs change once construction started?
Which geometric figures were used and why?
How does strength of structures compare to respective weight?
What additional changes are recommended for designs presented?
Which creation was longest? Tallest? Strongest? Heaviest? Why?
What materials might be used in future buildings?
How can technology contribute to the design process?